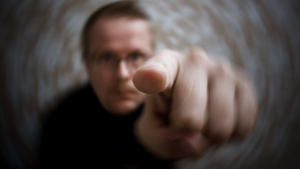 "It's all your fault!"
Do you know anyone who is always complaining, but has an excuse for everything?
Always pointing fingers at others. Blaming others for their problems?
Chances are, they doesn't understand this simple truth:
When you blame others for your problems, you give away all your power.
Better to turn that finger around, the one you used to to point at everyone else, and point it at yourself.
By taking responsibility, you empower yourself.
Taking responsibility is the beginning of learning and growth. When you take responsibility, failure ceases to be failure.
Instead, it's an opportunity to learn and grow.
This benefits everyone.
Most of all you (if you're a chronic complainer who used to have an excuse for everything).